Bachelor (Hons) - Archaeology and History Art
4 years

Duration
6,500 EUR/year

Price
Rolling admission

Start
Rolling admission

Deadline
Bachelor

Degree
Campus

Format
Cyprus

Location
Program description
Students will gain the hands-on experience, critical thinking, and collaborative abilities essential for academic and professional careers in archeology through this curriculum.
Students can expect to find employment in a wide variety of fields connected to art criticism and art history, as well as in companies with culture and art divisions and publishing institutions. These fields include archeology, art history, heritage management, and conservation. Those who decide to pursue further education beyond the undergraduate level may find employment in the academic sector.
Program structure
1st year
History of Art: An Introduction
Archaeology: An Introduction
Cypriot and Anatolian Archaeology I
The Ancient Middle East
Research Methods & Discourses
Academic English 1
Methods and Theories in Archaeology
Cypriot and Anatolian Archaeology II
Ancient Egypt
The Aegean
Ancient Greece
Academic English 2
Summer Internship 1
2nd year
Cypriot and Anatolian Archaeology III
Ancient Rome
Late Antique and Byzantine Civilization, Architecture and Art
The Architecture and Art of Islamic Civilizations
Early to High Medieval Architecture and Art
Turkish Language I
History of Ataturk Principles and Revolutions I
Early Renaissance in Italy
High Renaissance and Mannerism in Italy
Baroque to Neoclassicism
Romanticism to Post-Modernism
Faculty Elective 1
Summer Internship 2
Turkish Language II
History of Ataturk Principles and Revolutions II
3rd year
Modern Architecture and Art, 19th century to 1960s
Museums and Art I
Faculty Elective 2
Faculty Elective 3
Department Elective 1
Department Elective 2
Exhibition Design
Museums and Art II
Virtual and Augmented Reality Studio
University Elective 1
Department Elective 3
Department Elective 4
Summer Internship 3
4th year
Theory and History of Art History
Technical Drawing
Advanced Documentation Techniques
Curating Art
Department Elective 5
Faculty Elective 4
Graduation Project thesis
Management of Cultural Heritage
Contemporary Architecture and Art
Faculty Elective 5
University Elective 2
Price
Tuition fee - 6,500 EUR/year
Registration Fee - 1,000 EUR/year
Requirements for applicants
High School Diploma + Transcript (translated to English and notarized)
Portfolio (scan copies of your works related to a programme applying for)
Scanned copy of your Passport (photo page)
Minimum IELTS 5.0 or TOEFL 60 (In the absence of such, students will take the language proficiency exam upon arrival. Please note that all our programmes are taught in English)
About the university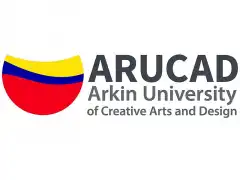 Arkin University of Creative Arts and Design (ARUCAD), established in 2017 in North Cyprus, is a specialized art institution that focuses solely on the creative and communicative arts. With a focus on traditional, modern, and contemporary art education and training, and recognizing the inseparable link between theory and practice, ARUCAD aspires to become one of the most prestigious universities in art education by helping its students continuously improve their creative productivity through interdisciplinary and cross-cultural programs.
All aspects of the classroom will promote a culture of respect for the natural world, recycling, health and safety, and cultural, racial, and religious diversity. The "learning while producing, producing while learning" model of education seeks to foster more in-depth creative and critical thinking by bringing together students' real-world experiences, academic studies, and professional work.
Mission
Using the ephemeral aspects of art, design, and communication, ARUCAD seeks to make cultural and intellectual contributions to society while also developing a higher education environment with a creative, egalitarian, and innovative perspective that will satisfy the requirements of the period.
Vision
The vision of ARUCAD is to create a space that is contemporary, innovative, questioning, and production-oriented, bringing together local and international art, design, and communication.
Read more about Arkin University of Creative Arts and Design, North Cyprus