Bachelor (Hons) - Ceramics
4 years

Duration
6,500 EUR/year

Price
Rolling admission

Start
Rolling admission

Deadline
Bachelor

Degree
Campus

Format
Cyprus

Location
Program description
The four-year BA (Hons) degree programme in the field of ceramics and glass art has the vision of providing students with practical skills in creating and presenting their own original works through workshops, as well as learning material chemistry and traditional techniques.
The programme is based on a triadic bond between technical education, critical thinking and historical perspective that encourages students to demonstrate their artistic practice with ceramic and/or glass material as part of their intellectual and critical inquiry. A wide range of practice-led studios and workshops offer common strategies for creative thinking, complemented by lectures and seminars where visual arts and history meet in the fields of philosophy, psychology, architecture, design, technology and natural sciences.
Program structure
1st year
History of Art I
Basic Art Education I
Basic Ceramic Tech. I
Introduction to Glass Tech. I
Ceramic and Glass Technology I
Academic English I
History of Art II
Basic Art Education II
Basic Ceramic Tech. II
Introduction to Glass Tech. I
Ceramic and Glass Technology I
Academic English II
2nd year
Basic Vocational Training
Pottery Wheel
Plaster Mold Casting I
Technical Drawing and Perspective
Atatürk's Principles and History of Revolutions I
Turkish Language I
Departmental Elective I
Modelling
Internship
Plaster Mold Casting II
Application of Technical Decoration
Atatürk's Principles and History of Revolutions II
Turkish Language II
Departmental Elective II
3rd year
Ceramic Design I
Glass Forming-Finishing Tech. I
History of Ceramic Art
Glass Mold Techniques I
Departmental Elective III
Faculty Elective I
Ceramic Design II
Glass Forming-Finishing Tech. II
History of Glass Art
Glass Mold Techniques II
Departmental Elective IV
Faculty Elective II
4th year
Final Project
Computer Aided Design
Departmental Elective V
Faculty Elective III
University Elective I
Graduation Project
Portfolio
Departmental Elective VI
Faculty Elective IV
University Elective II
Price
Tuition fee - 6,500 EUR/year
Registration Fee - 1,000 EUR/year
Requirements for applicants
High School Diploma + Transcript (translated to English and notarized)
Portfolio (scan copies of your works related to a programme applying for)
Scanned copy of your Passport (photo page)
Minimum IELTS 5.0 or TOEFL 60 (In the absence of such, students will take the language proficiency exam upon arrival. Please note that all our programmes are taught in English)
About the university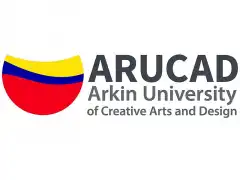 Arkin University of Creative Arts and Design (ARUCAD), established in 2017 in North Cyprus, is a specialized art institution that focuses solely on the creative and communicative arts. With a focus on traditional, modern, and contemporary art education and training, and recognizing the inseparable link between theory and practice, ARUCAD aspires to become one of the most prestigious universities in art education by helping its students continuously improve their creative productivity through interdisciplinary and cross-cultural programs.
All aspects of the classroom will promote a culture of respect for the natural world, recycling, health and safety, and cultural, racial, and religious diversity. The "learning while producing, producing while learning" model of education seeks to foster more in-depth creative and critical thinking by bringing together students' real-world experiences, academic studies, and professional work.
Mission
Using the ephemeral aspects of art, design, and communication, ARUCAD seeks to make cultural and intellectual contributions to society while also developing a higher education environment with a creative, egalitarian, and innovative perspective that will satisfy the requirements of the period.
Vision
The vision of ARUCAD is to create a space that is contemporary, innovative, questioning, and production-oriented, bringing together local and international art, design, and communication.
Read more about Arkin University of Creative Arts and Design, North Cyprus