Bachelor (Hons) - Film Design and Directing
4 years

Duration
6,500 EUR/year

Price
Rolling admission

Start
Rolling admission

Deadline
Bachelor

Degree
Campus

Format
Cyprus

Location
Program description
In order to effectively manage the complex and ever-changing nature of the creative process, the Film Design and Directing Department was developed.
At each stage, we recognize the significance of both theory and practice. Our instructors have extensive expertise with events, festivals, contests, symposia, and seminars, and they also have extensive experience as filmmakers. Our mission is to equip students with the cinematic knowledge, skills, and abilities necessary for professional success. The program is also intended to address societal and cultural needs by collecting and documenting Cyprus's rich cultural legacy and reimagining it in works of art that reflect ethical and aesthetic values.
Program structure
1st year
Fundamentals of Communication
Cinematic Language
Basic Film Production
Cinematography
Editing Techiniques
Turkish Language I
Academic English I
Digital Story Telling
History of Cinema
Film Studies
Lighting and Composition
Sound Design
Turkish Language II
Academic English II
2nd year
Media, Power and Culture
Film Genres
Scriptwriting
Post Production
History of Atatürk Principles and Revolutions I
Departmental Elective
Media Law and Ethics
Innovative Approaches in Communication
Film Theory and Aesthetics
Storyboarding Techniques
History of Atatürk Principles and Revolutions II
Bölüm Seçmeli
3rd year
Research Method in Communication
Documentary Film Production
Motion Design and Visual Effects
Film Design
Departmental Elective
Faculty Elective
Creative and Critical Thinking
Advanced Cinematography
Story Lab
Internship
Departmental Elective
Faculty Elective
4th year
Creative Pitching
Directing
Departmental Elective
Faculty Elective
University Elective
Film Criticism and Analysis
Final Project
Departmental Elective
Faculty Elective
University Elective
Price
Tuition fee - 6,500 EUR/year
Registration Fee - 1,000 EUR/year
Requirements for applicants
High School Diploma + Transcript (translated to English and notarized)
Portfolio (scan copies of your works related to a programme applying for)
Scanned copy of your Passport (photo page)
Minimum IELTS 5.0 or TOEFL 60 (In the absence of such, students will take the language proficiency exam upon arrival. Please note that all our programmes are taught in English)
About the university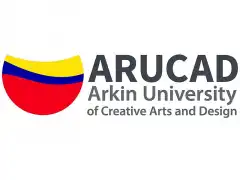 Arkin University of Creative Arts and Design (ARUCAD), established in 2017 in North Cyprus, is a specialized art institution that focuses solely on the creative and communicative arts. With a focus on traditional, modern, and contemporary art education and training, and recognizing the inseparable link between theory and practice, ARUCAD aspires to become one of the most prestigious universities in art education by helping its students continuously improve their creative productivity through interdisciplinary and cross-cultural programs.
All aspects of the classroom will promote a culture of respect for the natural world, recycling, health and safety, and cultural, racial, and religious diversity. The "learning while producing, producing while learning" model of education seeks to foster more in-depth creative and critical thinking by bringing together students' real-world experiences, academic studies, and professional work.
Mission
Using the ephemeral aspects of art, design, and communication, ARUCAD seeks to make cultural and intellectual contributions to society while also developing a higher education environment with a creative, egalitarian, and innovative perspective that will satisfy the requirements of the period.
Vision
The vision of ARUCAD is to create a space that is contemporary, innovative, questioning, and production-oriented, bringing together local and international art, design, and communication.
Read more about Arkin University of Creative Arts and Design, North Cyprus