Diploma - Culinary Arts
1 year

Duration
35,500 CHF

Price
Rolling admission

Start
Rolling admission

Deadline
Diploma

Degree
Campus

Format
Lucerne / Switzerland

Location
Program description
The B.H.M.S. Diploma in Culinary Arts is designed for degree holders in various professions who want to refocus their careers in the culinary industry. In the later stages of the program, it combines a hands-on approach to culinary operations and basic food preparation abilities with more sophisticated techniques and creativity. Practical theory courses help students develop their managerial abilities and ensure a balanced conversion award.
The program's highlights include a foundation in traditional European culinary techniques, cuts, stocks, and sauces before students practice these abilities with modern and international menu items in a real-world restaurant setting. The fundamentals of food safety and nutrition are also taught in order to prepare the students for their industrial training placement.
Both postgraduate and master's degrees need a 4-to-6-month internship.
Program structure
1st Semester
Essentials of Culinary Operations LAB
Food Preparation Techniques LAB
European Cuisine LAB
International Cuisine LAB
Contemporary Culinary Arts LAB
Mediterranean Cuisine LAB
Menu Design
Nutrition
Food Safety
Beverage Studies OR Food & Wine Pairing
3 Elective Modules
2nd Semester
Postgraduate Diploma Internship
Price
Tuition fees
Course Fee - 26,600 CHF
Application Fee - 500 CHF
Shared Standart Accommodation - 3,900 CHF
Meals Plan - 2,000 CHF
Operating Expenses - 2,500 CHF
TOTAL FEE CHF - 35,500 CHF
Requirements for applicants
Admission Requirements
Associate Degree or equivalent
2-3 years of work experience
IELTS 5.0 or equivalent
About the university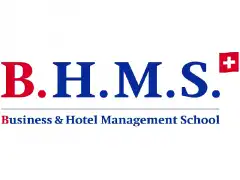 B.H.M.S. is one of the world's leading hospitality schools, located in the heart of Lucerne, a vibrant and beautiful city in Switzerland. Ideal Location - the campus buildings and student residences within walking distance from one another and the city center.
Business and Hotel Management School is a part of the 1928-founded Bénédict Switzerland group of schools. Bénédict School is one of Switzerland's largest private schools, with 15,000 full- and part-time pupils.
About 8,000 students each year study languages, supplemental health programs, IT, security management, commerce apprenticeships, and business management leading to Swiss Federal certifications at Bénédict Zürich. They provide craft, technical, management, a Bachelor of Arts degree, a Master of Arts degree and MBA degrees.
At B.H.M.S. Lucerne, 900 students per year prepare for hotel management roles. School offers a BA, MBA/PGD diploma, and MBA in conjunction with Robert Gordon University of Aberdeen, UK.
Read more about Business and Hotel Management School in Lucerne, Switzerland