Master of Science - Global Business Management
1 year

Duration
36,500 CHF

Price
Rolling admission

Start
Rolling admission

Deadline
Master

Degree
Campus

Format
Lucerne / Switzerland

Location
Program description
Students having a bachelor's degree, with or without work experience, are the target audience for the Master of Science in Global Business Management.
In today's global and rapidly evolving environment, it provides insight into managing both the economy and people. It offers a rigorous and forward-thinking education that prepares its graduates for leadership roles in the service industry and beyond.
Program structure
1st Semester
Advanced Accounting for Decision Makers
Business Ethics for Global Enterprises
International Business Law
Marketing & Branding in a Digital Society
Strategic Business Managment
Leadership in Business
International Human Resources Managment
Research Methods
Food Service Operations
German or French Language Module
2nd Semester
Independent Research
Paid Industry Training
Price
Tuition fees
Course Fee - 27,600 CHF
Application Fee - 500 CHF
Shared Standart Accommodation - 3,900 CHF
Meals Plan - 2,000 CHF
Operating Expenses - 2,500 CHF
TOTAL FEE CHF - 36,500 CHF
Requirements for applicants
Admission Requirements
Bachelor Degree in any discipline, or B.H.M.S. PG Diploma, or RGU Graduate Certificate
IELTS 6.0 or equivalent
About the university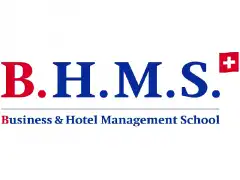 B.H.M.S. is one of the world's leading hospitality schools, located in the heart of Lucerne, a vibrant and beautiful city in Switzerland. Ideal Location - the campus buildings and student residences within walking distance from one another and the city center.
Business and Hotel Management School is a part of the 1928-founded Bénédict Switzerland group of schools. Bénédict School is one of Switzerland's largest private schools, with 15,000 full- and part-time pupils.
About 8,000 students each year study languages, supplemental health programs, IT, security management, commerce apprenticeships, and business management leading to Swiss Federal certifications at Bénédict Zürich. They provide craft, technical, management, a Bachelor of Arts degree, a Master of Arts degree and MBA degrees.
At B.H.M.S. Lucerne, 900 students per year prepare for hotel management roles. School offers a BA, MBA/PGD diploma, and MBA in conjunction with Robert Gordon University of Aberdeen, UK.
Read more about Business and Hotel Management School in Lucerne, Switzerland