MBA - Global Marketing
1 year

Duration
39,500 CHF

Price
Rolling admission

Start
Rolling admission

Deadline
MBA

Degree
Campus

Format
Lucerne / Switzerland

Location
Program description
Through its partnership with York St. John University, the B.H.M.S. Business & Hotel Management School provides young professionals with the opportunity to obtain an MBA and develop their managerial skills through hands-on experience with real-world scenarios, team projects, and case studies.
Students concentrating on global marketing learn how to make the most of digital resources and major social media sites like Facebook, Twitter, and LinkedIn. Through the creation of a global SoMe campaign, we not only investigate cultural and geographical variances in SoMe usage and norms, but we also put into practice the commercial consequences.
Program structure
1st Semester
Global Business Strategy
Marketing & Data Analytics
leading Innovation & Cultural Change
Dynamic Perspectives on Sustainable Business
Business Development & Value Creation
Accounting & Finance for Decision Making
Academic Writing & Research: MBA
International Hospitality Managment
Innovation & Entrepreneurship
Global Marketing
2nd Semester
Capstone Project
Paid Intership
Price
Tuition fees
Course Fee - 30,600 CHF
Application Fee - 500 CHF
Shared Standart Accommodation - 3,900 CHF
Meals Plan - 2,000 CHF
Operating Expenses - 2,500 CHF
TOTAL FEE CHF - 39,500 CHF
Requirements for applicants
Admission Requirements
Bachelor Degree in any discipline
IELTS 6.0 level or equivalent
2-3 years work experience
About the university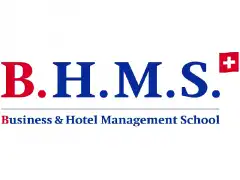 B.H.M.S. is one of the world's leading hospitality schools, located in the heart of Lucerne, a vibrant and beautiful city in Switzerland. Ideal Location - the campus buildings and student residences within walking distance from one another and the city center.
Business and Hotel Management School is a part of the 1928-founded Bénédict Switzerland group of schools. Bénédict School is one of Switzerland's largest private schools, with 15,000 full- and part-time pupils.
About 8,000 students each year study languages, supplemental health programs, IT, security management, commerce apprenticeships, and business management leading to Swiss Federal certifications at Bénédict Zürich. They provide craft, technical, management, a Bachelor of Arts degree, a Master of Arts degree and MBA degrees.
At B.H.M.S. Lucerne, 900 students per year prepare for hotel management roles. School offers a BA, MBA/PGD diploma, and MBA in conjunction with Robert Gordon University of Aberdeen, UK.
Read more about Business and Hotel Management School in Lucerne, Switzerland