Bachelor of Arts (Hons) - Music Production
3 years

Duration
15,950 GBP/year

Price
Rolling admission

Start
Rolling admission

Deadline
Bachelor

Degree
Campus

Format
Berlin / Germany

Location
Program description
Composition and performance are as important as recording, mixing, and mastering.
Our BA (Hons) Music Production course teaches you to create music and sound. The course covers the "how" and "why" of music and sound creation, giving students a greater understanding of ideologies, workflows, and future-proof technical techniques. This course prepares students for careers in music and creative industries.
The course will teach you how to apply your technical skills and creativity in live and studio settings. You'll know how to collaborate, work with artists, and record songs. You'll also learn how to make your own electronic music and become an artist, remixer, programmer, or game audio designer.
During the course, you'll work with cutting-edge equipment and software in our high-tech facilities. You'll know the technical needs of a professional creative brief and how to address it using production principles and terminology. Our world-class industry professors will guide and encourage you throughout the creative process.
Core topics include Approaches to Production and Workflows, Production in Context, Studio Practice & Engineering, and Answering a Creative Media Brief. You'll strengthen your technical skills and industry knowledge to find your place.
Program structure
Year 1
Semester 1
The Creative Industries & You 1: Finding Your Path
Audio Fundamentals
Music & Listening Skills
Audio Capture Methods & Equipment
Semester 2
Context & Culture of the Creative Industries
Industry Toolkit
Approaches to Production & Workflow
Mixing Multitrack Audio
Year 2
Semester 1
The Creative Industries & You 2: Collaborative Entrepreneurship
Creative Production Techniques
Studio Practice & Engineering
Semester 2
Creativity, Identity & Agency
Synthesis & Sampling
Year 3
Semester 1
Final Project
Answering a Creative Brief
Semester 2
Final Project
Creative Industries & You 3: Professional Portfolio
Price
Tuition fees
All international students must pay a deposit in order to secure their place on the course they have applied for. Deposit amounts will depend on if you are self-funded or if you have secured financial aid or a loan.
Self-funded international students: 4,000 GBP
Funded international students: 1,000 GBP
The deposit amount is deductible from your total fees.
Requirements for applicants
Successful completion of a BIMM admissions assessment.
Minimum of 32 UCAS points, equivalent to:

2 A-levels at Grade E or above
Award of Abitur with overall average grade of 3.0 including a minimum grade of 10 on the English component (LF) on the Abitur
BTEC Level 3 equivalent, and normally three GCSEs at a minimum grade C/4, including English Language.

IELTS 6.0 with a minimum of 5.5 to be achieved in each band.
About the university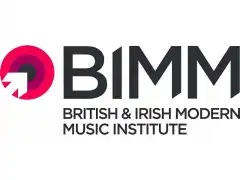 The doors to the music business are wide open after attending BIMM. We have seven campuses in some of the most lively cultural centers in the United Kingdom, Ireland, and Germany, making us the most connected music school in all of Europe. We have over 40 years of experience in the field and pride ourselves on our state-of-the-art facilities, world-class faculty, and unparalleled access to the industry.
All of our schools offer comprehensive music industry education, with classes covering everything from performing to running a record label, from making records to organizing concerts, and from songwriting to advertising. As a university, we take great satisfaction in the achievements of our alums and in the professionalism and adaptability of their skillsets.
Our facilities
We understand that in order to realize your full potential as a musician, you need access to state-of-the-art instruments and studios. That's why each of our eight universities has cutting-edge classroom and studio space on par with the best in the world.
Bands can practice on gear from Orange, Fender, Marshall, and Zildjian, among others, in dedicated rehearsal spaces. We have state-of-the-art recording facilities where you can lay down tracks of your latest music, and we also have post-production rooms where you can take your recordings to new heights. To help you develop your skills and realize your potential, we've worked with some of the best recording studios and concert halls in the world across all of our major music hubs.
Employability and careers
Students at BIMM Institute are taught to dream large and take calculated risks in their pursuit of knowledge. After all, potential employers will want proof that you are committed to and proficient in your field of study. Helping you demonstrate your abilities is our top priority.
You'll be joining a large community of experts and professionals in your field by signing on with us. We provide a wide variety of career development opportunities, from internships to master classes to a tailored recruitment service.
Read more about British and Irish Modern Music Institute, UK, Ireland, Germany