Bachelor - Business Administration (Media and Communications)
3 years

Duration
22,000 GBP/year

Price
Rolling admission

Start
Rolling admission

Deadline
Bachelor

Degree
Campus

Format
Multiple Locations / United Kingdom , Italy , Spain

Location
School
Program description
Modern media and communication expertise are crucial to the success of today's multinational corporations as the value of social media continues to climb and more and more business is conducted online.
The Media and Communications Management track of the Bachelor of Science (Honors) in Business Administration degree program prepares students for a wide range of employment in the media and communications industries. The program's emphasis on self-awareness, originality, and creativity makes for a dynamic and demanding path to the development of one's professional potential.
Successfully promoting and maintaining a business across several channels is a key competency for graduates with degrees in media and communications.
Program structure
Year 1
Introduction to Management
Economics for Business
Quantitative Methods for Business
Language (Business English, Italian, Spanish or French)
Study & Computer Skills Workshop
Introduction to Business
Introduction to Accounting and Financial Analysis
Introduction to Marketing
Language (Business English, Italian, Spanish or French)
Preparation for the Workplace Workshop
Internship
Year 2
Business Law
Operations Management
Managing People
Language (Business English, Italian, Spanish or French)
Research Methodology & Analysis Workshop Part I
Cross-Cultural E-Business and E-Commerce
Corporate Finance
Market Research
Language (Business English, Italian, Spanish or French)
Research Methodology & Analysis Workshop Part II
Internship
Year 3
International Project Management
Broadcasting & Digital Innovation
Global Communication Challenges
Final Project Preparation Workshop
Strategy & Strategic Dilemmas
New Media Management
Public Relations Theory & Practice
Creative Thinking Workshop
Final Project Media & Communications
Price
Milan, Rome, Florence & Madrid Campuses
Registration: 2,500 GBP
Tuition: 22,000 EUR/year
London Campus
Registration: 2,500 GBP
Tuition: 22,000 GBP/year
Requirements for applicants
Official copy of the High School Diploma or foreign equivalent certificate* (American High School diploma and IB with 24 points or above accepted)
Official copy of the High School Transcripts*
One Recommendation Letter*
Photocopy of Passport/ ID document
ENGLISH Language requirements**: IELTS 6.0 (169 – 175) TOEFL iBT 87; Pearson Test 50-57; Cambridge CAE grade C; Trinity College ISE II (Students have up to 90 days from the beginning of their course to submit the sufficient English language scores). Students have up to 90 days to submit their English Language
One photograph (passport-sized)
*All non-English documents must be officially translated
**Candidates who have completed their studies in the English language (at least 2 years) are not required to present a language qualification.
About the university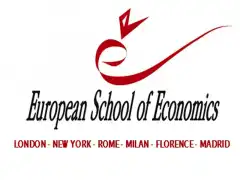 The idea of a European School of Economics is groundbreaking in the world of academia. While a solid grounding in economics, management, marketing, and finance is essential for success at a college of international business like ESE, that's not all you'll learn there. Modern higher education institutions should help each student grow as a person by teaching them a set of essential principles that will help them become the leaders of tomorrow.
The European School of Economics boasts a faculty with expertise ranging from corporate finance and sociology to the administration of luxury brands.
In order to help children succeed in school and in their careers, teachers and mentors work with them from the very beginning to pinpoint their individual strengths and passions. The ESE faculty offer our bachelor's, master's, MBA, and certificate programmes to students with a uniquely personalized set of learning experiences, drawing on their extensive real-world experience in their respective fields.
Our locations
ESE students will have the rare opportunity to study at any of the five ESE campuses (London, Milan, Florence, Rome, and Madrid) and to transfer between campuses on a semester-by-semester or year-by-year basis, allowing them to take the same courses in a variety of international settings and learn about different cultures.
Read more about European School of Economics, Italy, UK, Spain