Bachelor of Technology (Hons) - Construction Management
4 years

Duration
18,740 CAD/year

Price
Rolling admission

Start
Rolling admission

Deadline
Bachelor

Degree
Campus

Format
Toronto / Canada

Location
Program description
The Honours Bachelor of Technology (Construction Management) program integrates theory, research, fieldwork, and practical teaching. The curriculum blends construction engineering and technology with business and management concepts as applied to construction.
Students learn to handle building projects from beginning to end. They have the technical and soft skills to complete projects on time and on budget. Graduates receive the Hons. B.Tech. credential (Construction Management).
The Honours Bachelor of Technology (Construction Management) program is certified by the Canadian Institute of Quantity Surveyors, the Chartered Institute of Building, and the Royal Institution of Chartered Surveyors (RICS). Graduates can join construction management societies. Education, training, and job experience determine professional membership.
Graduates qualify for the Canadian Construction Association's Gold Seal Certification (GSC) to become certified superintendents, foremen, estimators, project managers, construction managers, and safety practitioners.
Program structure
Semester 1
Construction Materials
Introduction to Construction Management
Construction Materials Testing and Analysis
Residential Construction Technology
Blueprint Reading and Construction Measurement
Technical Communications
Technical Mathematics 1
Semester 2
Construction Surveying
Building Code and Regulations 1
Construction Graphics 1
Construction Health and Safety
Foundations in Building Science
Technical Mathematics 2
Semester 3
Construction Estimating 1 – Quantity Surveying
Soils and Foundations
Structural Systems in Building Construction 1
Construction Graphics 2
Applications in Building Science
Construction Law
Semester 4
Structural Systems in Building Construction 2
Construction Estimating 2 – Pricing
Commercial Construction Technology
Macro and Micro Economic Theory
Construction Project Management 1 – Planning
Semester 5
Highrise Construction Technology
Construction Estimating 3 – Bidding
Mechanical and Electrical Construction Practices
Construction Health and Safety
Construction Site Engineering Management
Heavy Construction Management Practices 1
Field Experience Preparation 1
Semester 6
Construction Project Accounting
Construction Estimating 4 – Cost Control
Capstone 1 – Bid Competition
Field Experience Preparation 2
Heavy Construction Management Practices 2
Construction Quality Management
Construction Project Management 2 – Contract Administration
Semester 7
Economics of Project Development
Preconstruction Cost Planning
Applications in Building Information Modeling (BIM)
Decision Analysis and Critical Thinking
Research Methods
Construction Project Procurement 1
Labour Relations and Human Resources Management
Construction Business Management & Entrepreneurship
Semester 8
Project Risk Management
Sustainable Construction Management Practices
Capstone Industry Research 2
Project Financial Monitoring
Construction Procurement 2
Leadership and Ethics for Construction Managers
Price
Base tuition fee (for two semesters - 1 year):
18,740 CAD for international students
Additional fees:
Application Fee - 110 CAD
Incidental Fees (student ID, student association membership, etc) - 2,000 CAD
Mandatory Health Insurance -

756

CAD for 1 year coverage
Requirements for applicants
Admission Requirements
Ontario Secondary School Diploma with six grade 12 University (U) or University/College (M) courses, or equivalent, including: Grade 12 (U) English and any grade 12 (U) mathematics.
A grade of at least 60 per cent in English and math
An overall average of 65 per cent in six grade 12 (U) or (M) courses.
Recommended courses: basic computer software applications and calculus and vectors.
English language proficiency
George Brown English for Academic Purposes (EAP) Program - Level 9;
IELTS (Academic) -

6.5, minimum 6.0 in each skill band

;
TOEFL - 84 (online) minimum 21 in each skill band;
Duolingo English Test - 115;
MELAB - 80;
PTE (Academic) - 54, overall minimum, 50 in each skill band;
CAEL - 60 (overall);
Cambridge English Exams (B2 First, C1 Advanced or C2 Proficiency) - 169 or more (with no individual skill below 162).
About the university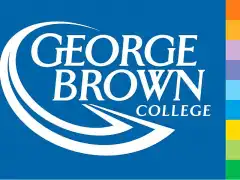 George Brown College opened its doors in 1968, welcoming just over 2,000 students.
Since then, full-time student population has grown to more than 30,000. People come to George Brown from across the Greater Toronto Area, the country and the world to develop the skills and gain the real-world experience needed to succeed in the workplace. Since 2004, under current President Anne Sado's leadership, George Brown has more than doubled in size, broadened international partnerships and increased commitment to strengthening the cultural, economic and social fabric of Toronto.
About George Brown College
The college located in Toronto, Canada. It has three campuses - Casa Loma, St.James, Waterfront, other locations where students attend classes and Student Residence.
George Brown College educates a blend of theory and hands-on experience, prioritizes real-world learning and provides students with opportunities to work alongside industry professionals in applied research and fields education opportunities. Its industry partnerships mean students get the latest trends and tech they can expect in the field. The college offers 170 programs in 7 centers. They include Art, Design and Infromation technology, Business, Community Services and early childhood, Construction and Engineering technologies, Health Sciences, Hospitality and Culinary arts, Preparatory and liberal studies.
Experiental and work-integrated learning oportunities are availabale to students to take part in.
6 reasons to study at George Brown
Study in Downtown Toronto
Hands-on, real world experience
Infromed by industry
Expert instructors
Applied research
Promoting enterpreneurship