Master of Engineering - Computer Science
1 year

Duration
15,500 EUR

Price
Rolling admission

Start
Rolling admission

Deadline
Master

Degree
Mixed

Format
Potsdam / Germany

Location
School
Program description
This application-oriented Computer Science master's program will teach you to apply algorithms, programming, and machine learning to real-world business challenges. "Computational thinking" is a program component. GISMA teaches students how to employ abstraction and decomposition to solve challenging tasks, develop complex systems, and analyze massive data sets.
When paired with project and innovation management and technology consulting, this provides the framework for demanding expert and managerial responsibilities in IT and adjacent disciplines, up to and including self-employment.
Full-time and part-time study is available. Full-time study takes two years, part-time longer. Ask our study advisors if your past learning outcomes or relevant work experience qualify you for a one- or one-and-a-half-year program.
Our MEng Computer Science degree programme is a dynamic and specialised programme that covers all the key areas of this in-demand specialism, from business technology consulting to advanced programming and databases. You will graduate with the knowledge, skills, and practical experience to thrive in your career in the field.
Program structure
Subject Specific Competencies
Business Technology Consulting
Advanced Mathematics
Computer Programming
Advanced Algorithms
Advanced Programming
Advanced Databases
Machine Learning
Computer Science Application Lab
Business Project in Computer Science
General Business Competencies
Project Management
Innovation Management and Digital Transformation
CSR, ESG and Ethics
Action and Intercultural Competencies
Ethical Issues for AI
Study abroad or Internship or Business Project
Scientific and Methods Competence
Scientific Work for Computer Science
Research Seminar
Master Thesis
Price
Tuition fee:
15,500 EUR (one year study)
11,575 EUR/year (two year study)
Early bird discount of up to 20%*
*20% early bird offer for applications submitted at least 8 weeks before orientation date.
Requirements for applicants
English proficiency: B2 (IELTS 6.0) or equivalent
Ability to prove required mathematical skills
About the university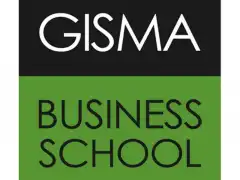 German privately owned business school GISMA Business School has campuses in Hannover, Berlin, Potsdam, Hamburg and London. As a cooperative effort between the German state of Lower Saxony and many sizable local private-sector businesses, it was started in September 1999.
GISMA provides a range of undergraduate and graduate degrees, including MBAs, that are all given and conferred by other universities. It also provides short courses in executive education.
Mission
GISMA prepares students to become global business leaders. GISMA provides both classic physical and current virtual learning spaces with state-of-the-art technology, an innovative learning environment, and highly skilled employees. GISMA stands for practical and exciting management education from top executives and founders. GISMA works with worldwide business and education organisations. It prepares students for management practise in a world of constant change, uncertainty, complexity, and ambiguity. GISMA has an international learning environment.