Bachelor - Data Science
3 years

Duration
1,752 EUR/year

Price
Rolling admission

Start
Rolling admission

Deadline
Bachelor

Degree
Online

Format
Berlin / Germany

Location
Program description
The rise of digital technologies has been the most consequential change in the modern economy and society. Not only has digital technology permeated every facet of human interaction, but it also has considerable monetary sway. It's a symbol of the technologies we already have and the gateway to unimaginable new forms of enterprise. One of its defining characteristics is the all-around applicability of data analysis. Therefore, Data Science is fundamental to any form of digital transformation.
Everything you need to know to start a career in Data Science is covered in the online Bachelor's degree program, including data preparation, visualization, and analysis. The course will teach you to approach data science problems in a systematic, deliberate, and logical manner, equipping you with the practical problem-solving abilities you'll need to face any professional challenge head-on.
Program structure
Semester 1
Introduction to Data Science
Introduction to Academic Work
Introduction to Programming with Python
Mathematics: Analysis
Collaborative Work
Statistics - Probability and Descriptive Statistics
Semester 2
Object-Oriented and Functional Programming with Python
Mathematics: Linear Algebra
Intercultural and Ethical Decision-Making
Statistics - Inferential Statistics
Database Modeling and Database Systems
Project: Build a Data Mart in SQL
Semester 3
Business Intelligence
Project: Business Intelligence
Machine Learning - Supervised Learning
Machine Learning - Unsupervised Learning and Feature Engineering
Data Science Software Engineering
Project: From Model to Production
Semester 4
Agile Project Management
Big Data Technologies
Data Quality and Data Wrangling
Explorative Data Analysis and Visualization
Cloud Computing
Seminar: Ethical Considerations in Data Science
Semester 5
Time Series Analysis
Neural Nets and Deep Learning
Semester 6
Introduction to Data Protection and IT Security
Model Engineering
Bachelor Thesis
Price
Tuition fees for international students
An additional 1,000 EUR fee is charged for studying at one of our on-campus locations. The fee must be paid to IU by bank transfer no later than one month before the start of your studies. (The campus fee is not included in the tuition fees of the study programme)
Requirements for applicants
Higher Secondary School Leaving Certificate such as A-Levels or IB Diploma and your transcript of records.
A subject-related higher education entrance qualification.
Depending on your qualifications, you might have to meet additional requirements, such as successfully passing a university entrance examination.
The admissions documents must be provided in English or German, if they were not issued in one of these two languages, a translation is required.
English language proficiency
We accept the following English language skills certificates*:
TOEFL (minimum 80 points)* or 
IELTS (minimum Level 6)* or 
Duolingo English Test (minimum 95 points)* or
Cambridge Certificate (minimum Grade B)*  
Is English your native language, or have you graduated from an English-speaking school or university? Then you do not need to prove your English language proficiency.
*Proof must be provided before the start of the study and must not be older than five years.
About the university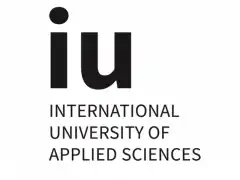 With a completely fresh approach, IU International University of Applied Sciences offers excellent programs for Bachelor, Master, and MBA degrees. They have developed campuses in Germany for students who choose to finish their coursework there, but they also provide comprehensive distance learning programs online. Additionally, students are free to mix the two.
It provides German and English-language campus-based, online, and blended learning programs. As of the summer semester of 2021, IU is the biggest state-accredited institution in Germany with over 100,000 students enrolled.
State recognition of the institution dates back to 1999, and in 2009 and 2021 it received accreditation from the German Science and Humanities Council. Additionally approved by the Foundation for International Business Administration Accreditation (FIBAA) on behalf of the German Accreditation Council are the study programs and the university's internal quality management ("system accreditation").
IU International University offers the following subject areas:
Design, Architecture & Construction
Health
Hospitality, Tourism & Events
Human Resources
IT & Technology
Marketing & Communication
Social Sciences
Transportation & Logistics
Business & Management
Read more about IU International University of Applied Sciences, Germany