Master - International Healthcare Management (1 year)
1 year

Duration
2,988 EUR

Price
Rolling admission

Start
Rolling admission

Deadline
Master

Degree
Online

Format
Berlin / Germany

Location
Program description
In light of recent media coverage, it's easy to see that the healthcare business is undergoing significant change in response to emerging issues. It is now more obvious than ever that the healthcare industry is both essential and exciting, and that new managers savvy to the ways of the digital age are needed in practically every sector.
Students holding a four-year bachelor's degree in business or economics are the target audience for the 120 ECTS curriculum.
The 60 ECTS curriculum is designed for students with a bachelor's degree in a different discipline who have worked in the healthcare industry for at least a year.
Work in leading medical technology firms, clinics, and other healthcare institutions with interesting managerial responsibilities.
Program structure
Semester 1
Global Healthcare Markets
International Health Systems
Healthcare Financing
Advanced Research Methods
Health Economics
Seminar: Managing People and Organizations
Semester 2
Quality Assurance and Risk Management in Health
Master Thesis
Price
Tuition fees for international students
An additional 1,000 EUR fee is charged for studying at one of our on-campus locations. The fee must be paid to IU by bank transfer no later than one month before the start of your studies. (The campus fee is not included in the tuition fees of the study programme)
Requirements for applicants
Completed undergraduate degree with 240 ECTS
Your degree must be from a state or state-recognised higher education institution/university
You must have achieved a final grade of at least "satisfactory" or Grade C equivalent in your previous undergraduate degree
Proof of at least one year's professional work experience completed prior to the start of study programme. Work experience must have been gained after completion of your undergraduate studies
Depending on your previous education, the following entry options are applicable for the 60-ECTS Master's degree:
undergraduate degree with 210 ECTS: you can bridge the gap of 30 ECTS with the proof of one year qualified work experience
undergraduate degree with 180 ECTS: you can bridge the gap of 60 ECTS with the proof of two years qualified work experience
Recognition of knowledge and abilities acquired outside of higher education is possible in principle.
English language proficiency
Duolingo (minimum 95 points) or
TOEFL (minimum 80 points) or
IELTS (minimum Level 6) or
Cambridge Certificate (minimum Grade B)
About the university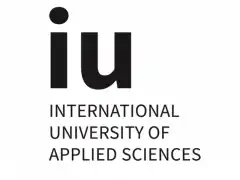 With a completely fresh approach, IU International University of Applied Sciences offers excellent programs for Bachelor, Master, and MBA degrees. They have developed campuses in Germany for students who choose to finish their coursework there, but they also provide comprehensive distance learning programs online. Additionally, students are free to mix the two.
It provides German and English-language campus-based, online, and blended learning programs. As of the summer semester of 2021, IU is the biggest state-accredited institution in Germany with over 100,000 students enrolled.
State recognition of the institution dates back to 1999, and in 2009 and 2021 it received accreditation from the German Science and Humanities Council. Additionally approved by the Foundation for International Business Administration Accreditation (FIBAA) on behalf of the German Accreditation Council are the study programs and the university's internal quality management ("system accreditation").
IU International University offers the following subject areas:
Design, Architecture & Construction
Health
Hospitality, Tourism & Events
Human Resources
IT & Technology
Marketing & Communication
Social Sciences
Transportation & Logistics
Business & Management
Read more about IU International University of Applied Sciences, Germany