Master - International Management
2 years

Duration
2,256 EUR/year

Price
Rolling admission

Start
Rolling admission

Deadline
Master

Degree
Online

Format
Berlin / Germany

Location
Program description
The Master of International Management (MIM) degree is designed to give young professionals at the outset of their managerial careers a competitive advantage by providing them with a specialized set of skills and knowledge.
This program is ideal if you want to move up the corporate ladder but don't yet have the necessary job experience for an MBA, as it doesn't require you to have held a managerial role before enrolling.
Graduates of the Master of Science in International Management program will have the theoretical and practical knowledge, as well as the international perspective, necessary to take on challenging managerial roles anywhere in the world.
Program structure
Semester 1
Managing Across Borders
Advanced Research Methods
Intercultural Management
Performance Measurement
Applied Statistics
Business Ethics and Corporate Governance
Semester 2
Leadership
International Marketing
Negotiation
International Financial Management
International Financial Accounting
Seminar: International Human Resource Management
Semester 3
Strategic Management
Seminar: Current Issues in International Management
Semester 4
Master Thesis & Colloquium
Price
Tuition fees for international students
An additional 1,000 EUR fee is charged for studying at one of our on-campus locations. The fee must be paid to IU by bank transfer no later than one month before the start of your studies. (The campus fee is not included in the tuition fees of the study programme)
Requirements for applicants
Completed undergraduate degree from a public or officially recognised university/higher education institution in economics.
For 120-ECTS programmes, you will need to have 180 ECTS points.
At least a "satisfactory" or Grade C equivalent earned in your previous education.
Is your undergraduate degree not in the required subject field for this programme's 120 ECTS points variation admission requirements? You can still apply! You'll have to take 2 specific courses at the start of your studies, and pass them successfully in order to continue with your studies. That way, you don't have to take an entrance examination, and can prove your skills while earning ECTS points as part of your studies.
English language proficiency
Duolingo (minimum 95 points) or
TOEFL (minimum 80 points) or
IELTS (minimum Level 6) or
Cambridge Certificate (minimum Grade B)
About the university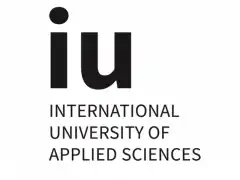 With a completely fresh approach, IU International University of Applied Sciences offers excellent programs for Bachelor, Master, and MBA degrees. They have developed campuses in Germany for students who choose to finish their coursework there, but they also provide comprehensive distance learning programs online. Additionally, students are free to mix the two.
It provides German and English-language campus-based, online, and blended learning programs. As of the summer semester of 2021, IU is the biggest state-accredited institution in Germany with over 100,000 students enrolled.
State recognition of the institution dates back to 1999, and in 2009 and 2021 it received accreditation from the German Science and Humanities Council. Additionally approved by the Foundation for International Business Administration Accreditation (FIBAA) on behalf of the German Accreditation Council are the study programs and the university's internal quality management ("system accreditation").
IU International University offers the following subject areas:
Design, Architecture & Construction
Health
Hospitality, Tourism & Events
Human Resources
IT & Technology
Marketing & Communication
Social Sciences
Transportation & Logistics
Business & Management
Read more about IU International University of Applied Sciences, Germany