MBA - One-year
1 year

Duration
2,988 EUR

Price
Rolling admission

Start
Rolling admission

Deadline
Master

Degree
Online

Format
Berlin / Germany

Location
Program description
No matter what your educational or professional experience is, you can benefit from pursuing a Master of Business Administration degree. An MBA can equip you with the knowledge and experience in areas like finance, economics, and leadership that are essential for any management position. Our internationally focused and practice-based 'One-Year MBA' program will have you ready to compete for jobs anywhere in the world.
The abilities you'll gain in our 60-credit MBA program will equip you to analyze markets and rivals, create new products and ideas, counsel clients, lead teams, and strategically place brands. Those aspiring to positions of leadership or business ownership would do well to consider this path. You will learn the fundamentals of business administration and management, and begin to establish a professional network that could be invaluable to your future success. You can tailor your MBA degree by selecting a concentration from among five options. Our staff and faculty are always available to help and offer guidance.
Have you taken any sort of training, gone to college, or worked before? You can get your prior accomplishments acknowledged at no cost to you at IU International University of Applied Sciences. You can save money on tuition and time by doing this.
Program structure
Semester 1
Leadership
Innovation and Entrepreneurship
International Marketing
Performance Measurement
Corporate Finance
Managerial Economics
Semester 2
Strategic Management
Operations and Information Management
Business Ethics and Corporate Governance
Capstone Thesis and Defense
Price
Tuition fees for international students
An additional 1,000 EUR fee is charged for studying at one of our on-campus locations. The fee must be paid to IU by bank transfer no later than one month before the start of your studies. (The campus fee is not included in the tuition fees of the study programme)
Requirements for applicants
Completed undergraduate degree with at least 210 ECTS
Your degree must be from a state or state-recognised higher education institution/university You must have achieved a final grade of at least "satisfactory" or Grade C equivalent in your previous undergraduate degree
Proof of at least one year's professional work experience completed prior to the start of study programme. Work experience must have been gained after completion of your undergraduate studies
English language proficiency
Duolingo (minimum 95 points) or
TOEFL (minimum 80 points) or
IELTS (minimum Level 6) or
Cambridge Certificate (minimum Grade B)
About the university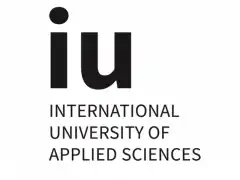 With a completely fresh approach, IU International University of Applied Sciences offers excellent programs for Bachelor, Master, and MBA degrees. They have developed campuses in Germany for students who choose to finish their coursework there, but they also provide comprehensive distance learning programs online. Additionally, students are free to mix the two.
It provides German and English-language campus-based, online, and blended learning programs. As of the summer semester of 2021, IU is the biggest state-accredited institution in Germany with over 100,000 students enrolled.
State recognition of the institution dates back to 1999, and in 2009 and 2021 it received accreditation from the German Science and Humanities Council. Additionally approved by the Foundation for International Business Administration Accreditation (FIBAA) on behalf of the German Accreditation Council are the study programs and the university's internal quality management ("system accreditation").
IU International University offers the following subject areas:
Design, Architecture & Construction
Health
Hospitality, Tourism & Events
Human Resources
IT & Technology
Marketing & Communication
Social Sciences
Transportation & Logistics
Business & Management
Read more about IU International University of Applied Sciences, Germany