Bachelor of Science (Hons) - Accounting and Finance
3 years

Duration
16,500 EUR/year

Price
Oct 2023

Start
Apr 2023

Deadline
Bachelor

Degree
Campus

Format
Leipzig / Germany

Location
Program description
The question is, why do certain businesses thrive while others fail? A rising profit margin in the face of falling stock prices begs the question: how is this possible?
Accounting provides answers to these fundamental problems. Accounting and finance could be the perfect major for you if you enjoy numbers and diversity and value a solid grounding in technical knowledge and an awareness of the corporate world.
According to The Times, 2020, this program is ranked #8 in the UK. The Lancaster University Leipzig campus offers the same courses as the main campus.
A degree in Accounting and Finance can open up a range of exciting career avenues, including the following roles:
Chartered accountant
Chartered certified accountant
Chartered management accountant
Chartered public finance accountant
Company secretary
External auditor
Forensic accountant
Stockbroker
Program structure
1ST YEAR
Introduction to Accounting and Finance
Principles of Economics
Professional Skills
Quantitative Methods for Accounting and Finance
2ND YEAR
Accounting Information Systems and Auditing
Career Skills in Accounting and Finance 1
Management Accounting for Business Decisions
Principles of Finance
Principles of Financial Accounting
Statistical Methods for Business
Techniques for Management Decision Making
Managerial Economics
Marketing Fundamentals
3RD YEAR
Career Skills in Accounting and Finance 2
Financial Accounting I
Financial Accounting II
Advanced Management Accounting
Corporate Finance
International Financial Management
Financial Statement Analysis
Management in the 21st Century
In your first year, you'll study accounting and finance using real-world data from actual companies. You will also discover more about economic issues such as inflation, costs and pricing. You will also get advice on how to build your CV.
Second year core subjects include auditing, financial accounting, risk, corporate finance and management accounting for business decisions. You can also select from courses such as management decision making and advanced finance topics like hedging. Your third year builds on this knowledge while offering specialist options such as ethics, investments and taxation.
Price
Fee for two semesters (1 year) is 16500,00 EUR for international students
Requirements for applicants
The following requirements apply for the start of a Bachelor's degree (as example for USA students*):
High School Diploma plus APs / Associate Degree
Completed US High School Diploma with at least 3.2 GPA average and 3 AP subjects at grade 4 or
Completed Associate Degree with at least 2.9 GPA average
In addition to this, one of the criteria indicated below needs to be met for admission into Accounting and Finance, Software Engineering and Computer Science courses:

Mathematics Grade A in High School Diploma;
3 in AP Calculus AB or BC;
580 in SAT I Mathematics (if available)
(We consider the discontinued SAT subjects at 650 or above and encourage the applicants to provide these qualifications if they are available
*each country has its own requirements for applicants, which can be found on the university's website
English Proficiency requirements are:
IELTS Academic (UKVI Approved) 6.5 overall (min of 5.5 in each element);
IELTS Academic (Other Centres) 6.5 overall (min of 5.5 in each element);
IELTS Online 6.5 overall (min of 5.5 in each element);
TOEFL IBT 87 overall (min of 17 in listening, 18 in reading, 17 in speaking and 20 in writing);
TOEFL IBT Home Edition 87 overall (min of 17 in listening, 18 in reading, 17 in speaking and 20 in writing);
Pearson PTE Academic / UKVI 58 overall (min of 42 in each of the four skills);
Pearson PTE Academic Online 58 overall (min of 42 in each of the four skills);
Cambridge English: Advanced CAE 176 overall with at least 162 in each element;
Cambridge English: Proficiency (CPE) 176 overall with at least 162 in each element;
GCSE/IGCSE/O Level English Grade C / 4;
CaMLA ECPE Grade C2;
Trinity ISE ISE II, Distinction in each element (modules must be taken within one month of each other);
LanguageCert International ESOL B2 Communicator with 39 in each skill area;
LanguageCert International ESOL (SELT) B2 Communicator with 39 in each skill area;
IELTS, TOEFL, Pearson and LanguageCert certificates are valid for 2 years from the test date and your certificate will need to be valid on the start date of your studies at Lancaster. If you have taken a test multiple times, we cannot combine scores together to meet the requirements.
About the university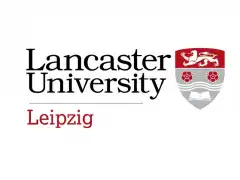 Lancaster University Leipzig is dedicated to offering an education of the same quality as that offered at universities in the United Kingdom, and it offers a variety of degree programs.
The campus sits in the middle of Leipzig, making it easily accessible for students from all across Germany, the European Union, and the rest of the world.
Upon successful completion of one of the undergraduate or postgraduate programmes, students who study in Leipzig receive their degrees from Lancaster University. It does not matter where a student studied – either at the Leipzig campus or at the main Bailrigg campus in the UK; students are awarded the same degree certificate issued by Lancaster University in the UK. This enables students to apply to any postgraduate programme in Germany, the UK or in any other country in the world. Your Lancaster University degree is internationally recognised and highly valued by institutions and employers.
Lancaster University is among the best in the UK. A top 15 university in the three major UK league tables, the university is also highly ranked in international league tables such as the QS World Rankings.