Master of Laws - Mediation and Alternative Dispute Resolution
1 year

Duration
17,500 GBP

Price
Rolling admission

Start
Rolling admission

Deadline
Master

Degree
Mixed

Format
Multiple Locations / United Kingdom , Hong Kong

Location
School
Program description
To further your academic legal knowledge, you may want to consider pursuing a Master of Laws (LLM) in Mediation and Alternative Dispute Resolution.
In addition to opening doors to professions as an Arbitrator, Mediator, Barrister, Solicitor, Extra-judicial Legal Professional, and others, this Master's degree is recognized around the world and will help you to get in-depth understanding of various mediation and arbitration methodologies and procedures.
Program structure
Main modules
Two week induction: For non-law students this includes a compulsory introduction to the law of England and Wales which must be completed before commencing your first modules.
You will complete:
Mediation and Alternative Dispute Resolution
Civil and Criminal Litigation
Research Methods Training (sessions throughout Terms 1 and 2)
Dissertation in Mediation and Alternative Dispute Resolution
You may then choose two from the list of elective modules which includes modules such as:
Advocacy and Bar Skills
International Arbitration
Price
Tuition fees for international students per year:
17,500 GBP (London)
15,100 GBP (Non-London)
120,000 HKD (Hong Kong)
11,350 GBP (Online courses)
Requirements for applicants
English language requirements for applicants whose first language is not English
IELTS score required: 6.5 overall (at least 6.0 in each component)
The University of Law English Test (ULET)*: 6.5 overall (at least 6.0 in each component)
TOEFL iBT (not 'MyBest Scores'): 79 (Listening/Speaking 19, Reading 18, Writing 23)
Pearson PTE Academic: 72 overall (at least 64 in each component)
LanguageCert ESOL (both papers must be sat within 3 months): B2 Written paper: overall 101 (min 33 in R/L/W); B2 Spoken paper: min 35/50
Trinity ISE : ISE II: Two merits and two distinctions
Cambridge FCE/CAE/CPE (First, Advanced, Proficiency): 176 overall (at least 169 in each component)
Cambridge IGCSE syllabus 0500, 0510, 0511, 0522, 0900, 0991:1st Language: C; 2nd Language: B
International Baccalaureate : 4
Functional Skills: Pass
Trinity ESOL for Life Skills: Pass
*The University of Law English Test (ULET) was developed to evaluate your level of English for undergraduate or graduate education. Our University will consider it as evidence of your proficiency in English. Additionally, it complies with the conditions for a UK visa for immigration (UKVI).
About the university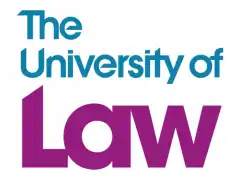 The University of Law is the largest law school in the United Kingdom and was formed in 1962 as The College of Law of England and Wales. It offers law degrees, specialized legal training, and continuing professional development courses for British barristers and lawyers. Its beginnings can be found around 1876.
Prior to receiving university status in 2012, the College of Law's educational and training business was divided off and incorporated as a private limited company. The College of Law had been established by royal charter as a charity in 1975. The College of Law Limited and The University of Law Limited were created from this. The college was given the authority to offer degrees in 2006. When it was given university status in 2012, it changed its name to The University of Law (ULaw) and became the first for-profit educational institution in the UK.
The university has nine campuses in the UK, located in Birmingham, Bristol, Chester, Guildford, Leeds, Manchester, Nottingham, and Sheffield, in addition to an overseas campus in Hong Kong.
All of our courses, from our undergraduate law degrees to our varied range of business courses and postgraduate programmes, are created using a special, varied, and innovative learning approach that has been shown to produce independent professionals capable of competing in the quickly changing professional world. Our courses are created to prepare you for the real-life difficulties of the working world with a focus on developing abilities in problem-solving, evaluating arguments, critical thinking, and commercial awareness.
Read more about The University of Law (ULaw), United Kingdom