Bachelor of Applied Science - Civil Engineering
4 years

Duration
22,460 CAD/year

Price
Rolling admission

Start
Rolling admission

Deadline
Bachelor

Degree
Campus

Format
Canada

Location
Program description
UNBC provides a challenging civil engineering curriculum together with possibilities for specialized instruction in a variety of fields and business skills training. Buildings, bridges, highways, transit systems, water and waste treatment facilities, foundations, tunnels, dams, and other components of the infrastructure necessary for modern society are all designed by civil engineers today. In addition, they also analyze the effects of deterioration on infrastructure elements while taking system interdependencies and life-cycle impacts into account. When creating modern infrastructure, civil engineers must take the environment's impact and economic sustainability into account.
In keeping with the principles of design, life-cycle assessment, systems engineering, sustainable materials, renewable energy, and low-impact development throughout, UNBC offers an integrated approach to civil engineering.
Program structure
First Year (Semesters 1 & 2)
General Chemistry I
General Chemistry Laboratory I
Introduction to Computer Systems and Programing
Technical Writing
Engineering Design 1
Mechanics of Materials I
Engineering Tools I
Engineering Tools II
Calculus I
Calculus II
Linear Algebra
Introductory Physics I: Mechanics
Introductory Physics II: Waves and Electricity
Second Year (Semesters 3 & 4)
Civil Engineering Materials
Soil Mechanics
Structural Analysis I
Engineering Communication
Engineering Design II
Thermodynamics and Heat Transfer
Mechanics of Materials II
Fluid Mechanics I
Surveying
Calculus III
Linear Differential Equations and Boundary Value Problems
Statistical Reasoning for Engineers
Third Year (Semesters 5 & 6)
Structural Analysis II
Structural Design I
Structural Design II
Geotechnical Engineering
Transportation Systems
Construction Management
Sustainable Principles of Engineering
Hydrology and Open Channel Flow
Water and Wastewater Systems
Engineering Economics
Introduction to Numerical Methods
Fourth Year (Semesters 7 & 8)
Professional Practice & Law
One of the following:
Project Management
Engineering Business & Project Management
Price
Tuition* 22,460 CAD
Student Fees* 1,690 CAD
Books* 1,600 CAD
*Tuition, fees and books are subject to change and vary among programs.
Requirements for applicants
Meet UNBC's English language requirements
Meet the international admission requirements by country or meet the admission with a General Certificate of Education (or equivalent)
Complete the required high school course equivalencies outlined in the Domestic tab prior.
About the university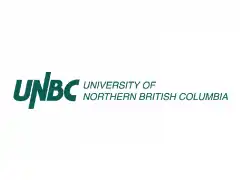 One of Canada's top universities, UNBC is situated in the breathtaking scenery of northern British Columbia.
Excellent undergraduate and graduate learning opportunities are offered by UNBC in the areas of cultures, economics, health, sciences, and the environment. We share the exhilaration of new knowledge with our students and the results of our teaching and research with the world as one of British Columbia's research-intensive institutions. UNBC is a welcome place with a warm, inclusive, and supportive learning environment in addition to cultivating and celebrating academic excellence.
The University of the North by and for the North is UNBC. Our students, alumni, teachers, staff, and the communities we serve all feel a strong sense of ownership, purpose, and adventure as a result of our goal. We are also Canada's Green UniversityTM, paving the road for everyone's future to be more sustainable.
Vision
To affect people's lives and communities in the North and around the world while being Canada's top destination university in terms of personal character.
Mission
To have an impact on the world today and inspire future leaders.
UNBC's Academic Structure
Faculty of Environment
Faculty of Business and Economics
Faculty of Human and Health Sciences
Faculty of Indigenous Studies, Social Sciences and Humanities
Faculty of Science and Engineering
Division of Medical Sciences
Read more about University of Northern British Columbia, Canada