Bachelor of Arts - Environmental and Sustainability Studies
4 years

Duration
22,460 CAD/year

Price
Rolling admission

Start
Rolling admission

Deadline
Bachelor

Degree
Campus

Format
Canada

Location
Program description
Explore environmental and sustainability issues, as well as potential answers to such issues, amid UNBC's breathtaking natural setting.
Examine environmental and sustainability challenges from a social science and humanities point of view. Among the many topics covered are carbon management, energy efficiency, global perspectives, environmental citizenship, and the interplay between society and ecosystem.
Opportunities for practical training are available in the third and fourth years of study.
Program structure
Lower-Division
100 Level
Introductory Ecology
Chemistry of Everyday Life
General Chemistry I
Weather and Climate
Introduction to Aquatic Systems
Physics for Future Leaders
Introduction to Environmental Citizenship
The Aboriginal Peoples of Canada
Planet Earth
Introduction to Planning
Contemporary Political Issues
(Computer Applications) is recommended for students without computing experience.
200 Level
Expository Writing
Creative Writing
Environmental Perspectives
Introduction to Environmental Policy
Resources, Economies and Sustainability
Sustainable Recreation and Tourism
Introduction to GIS
Upper-Division
300 Level
Gender, Environment and Sustainability
Public Engagement for Sustainability
Low-Carbon Transitions: Theory and Practice
Aboriginal Perspectives on Land and Resource Management
400 Level
Environmental Law
Environmental and Professional Ethics
Global Environmental Policy: Energy and Climate
Internship
Environmental & Sustainability Studies Senior Seminar
Tenure, Conflict and Resource Geography
or Indigenous Women: Perspectives
or First Nations Perspectives on Race, Class, Gender and Power
or International Perspective
or Experiential Course in First Nations Studies
or Critical Development Geographies
Environmental Justice or
Political Ecology: Environmental Knowledge and Decision-Making
Environmental Problems and Human Behaviour or
Human Adaptability and Environmental Stress
Landscapes, Place and Culture
Environmental Anthropology
Price
Tuition* 22,460 CAD
Student Fees* 1,690 CAD
Books* 1,600 CAD
*Tuition, fees and books are subject to change and vary among programs.
Requirements for applicants
Meet UNBC's English language requirements
Meet the international admission requirements by country or meet the admission with a General Certificate of Education (or equivalent)
Complete the required high school course equivalencies outlined in the Domestic tab prior.
About the university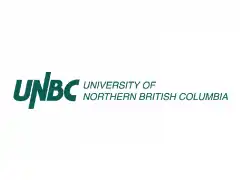 One of Canada's top universities, UNBC is situated in the breathtaking scenery of northern British Columbia.
Excellent undergraduate and graduate learning opportunities are offered by UNBC in the areas of cultures, economics, health, sciences, and the environment. We share the exhilaration of new knowledge with our students and the results of our teaching and research with the world as one of British Columbia's research-intensive institutions. UNBC is a welcome place with a warm, inclusive, and supportive learning environment in addition to cultivating and celebrating academic excellence.
The University of the North by and for the North is UNBC. Our students, alumni, teachers, staff, and the communities we serve all feel a strong sense of ownership, purpose, and adventure as a result of our goal. We are also Canada's Green UniversityTM, paving the road for everyone's future to be more sustainable.
Vision
To affect people's lives and communities in the North and around the world while being Canada's top destination university in terms of personal character.
Mission
To have an impact on the world today and inspire future leaders.
UNBC's Academic Structure
Faculty of Environment
Faculty of Business and Economics
Faculty of Human and Health Sciences
Faculty of Indigenous Studies, Social Sciences and Humanities
Faculty of Science and Engineering
Division of Medical Sciences
Read more about University of Northern British Columbia, Canada