Bachelor of Commerce - Marketing
4 years

Duration
22,460 CAD/year

Price
Rolling admission

Start
Rolling admission

Deadline
Bachelor

Degree
Campus

Format
Canada

Location
Program description
Develop a solid understanding of all aspects of business, including accounting, finance, and business information systems.
You will delve into marketing in your later years, with courses in behavioral marketing, strategic marketing, and marketing research.
Electives available include sales management, Internet marketing, and international marketing.
The marketing concepts and principles you will learn are especially important for small businesses and start-ups.
Program structure
100 Level
Introduction to Canadian Business
Microeconomics
Macroeconomics
The Aboriginal Peoples of Canada
Finite Mathematics for Business and Economics or Linear Algebra
Calculus for Non-majors or Calculus I
200 Level
Business Communications
Financial Accounting
Managerial Accounting
Financial Management I
Organizational Behaviour
Introduction to Marketing
Introduction to Management Science
Applied Business Computing
Statistics for Business and the Social Sciences or Basic Statistics
300 and 400 Level
Introduction to Business Law
Financial Management II
Human Resource Management
Business and Professional Ethics
Behavioural Marketing
Production and Operations Management
Management Information Systems
Strategic Management
Marketing Strategy
Marketing Research
Managerial Economics
Two of the following:
Marketing Communications
Sales Management
Services Marketing
Internet Marketing
Marketing Channels and Retail Marketing
International Marketing
Price
Tuition* 22,460 CAD
Student Fees* 1,690 CAD
Books* 1,600 CAD
*Tuition, fees and books are subject to change and vary among programs.
Requirements for applicants
Meet UNBC's English language requirements
Meet the international admission requirements by country or meet the admission with a General Certificate of Education (or equivalent)
Complete the required high school course equivalencies.
About the university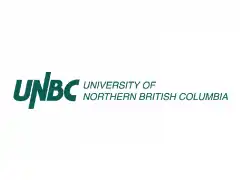 One of Canada's top universities, UNBC is situated in the breathtaking scenery of northern British Columbia.
Excellent undergraduate and graduate learning opportunities are offered by UNBC in the areas of cultures, economics, health, sciences, and the environment. We share the exhilaration of new knowledge with our students and the results of our teaching and research with the world as one of British Columbia's research-intensive institutions. UNBC is a welcome place with a warm, inclusive, and supportive learning environment in addition to cultivating and celebrating academic excellence.
The University of the North by and for the North is UNBC. Our students, alumni, teachers, staff, and the communities we serve all feel a strong sense of ownership, purpose, and adventure as a result of our goal. We are also Canada's Green UniversityTM, paving the road for everyone's future to be more sustainable.
Vision
To affect people's lives and communities in the North and around the world while being Canada's top destination university in terms of personal character.
Mission
To have an impact on the world today and inspire future leaders.
UNBC's Academic Structure
Faculty of Environment
Faculty of Business and Economics
Faculty of Human and Health Sciences
Faculty of Indigenous Studies, Social Sciences and Humanities
Faculty of Science and Engineering
Division of Medical Sciences
Read more about University of Northern British Columbia, Canada